Halloween is slowly becoming popular over here in Australia. The retail stores are stocking more halloween related products and more and more children are trick or treating. I am one Australian that embraces it, I love it!
For a few years now we have held a halloween party with friends, just for some fun. I love to decorate the inside of the house for the party. I haven't been game to decorate outside yet just in case the neighbours think I'm a freak or something. Each year I 'need' to add to my decorations, its a little obsession that I have. So this year I decided that it would look great to have a heap of candles around the house. But candles, little children running around and costumes which are quite flammable are not a good mix. What to do?
Answer . . . make fake candles!
What you will need . . . a lot of glue sticks for your hot glue gun and I mean a lot! PVC pipe cut to the height you want your candles, newspaper, stiff cardboard or craft foam, battery operated tea light candles and paint.
Using either the craft foam or a stiff card, cut a circle that will sit just inside the pvc pipe. In the centre of that circle cut a hole that will fit the tea light candle snuggly.
This will form the top of your candle and act as a holder for the tea light.
Next scrunch up some newspaper and place it inside the tube. I used this as a base for my tea light to sit on so that it wouldn't fall inside the pvc tubing.
With the hot glue I attached the foam/card circle to the inside of the pvc pipe. I set mine down a little from the top so that when the tea light goes into place you will only see it's flame from the top.
Then comes the fun part. Starting at the top of the pvc pipe run hot glue down the sides to make it look like dripped wax. Make sure you build it up a little on the ridge of the candle top and inside too.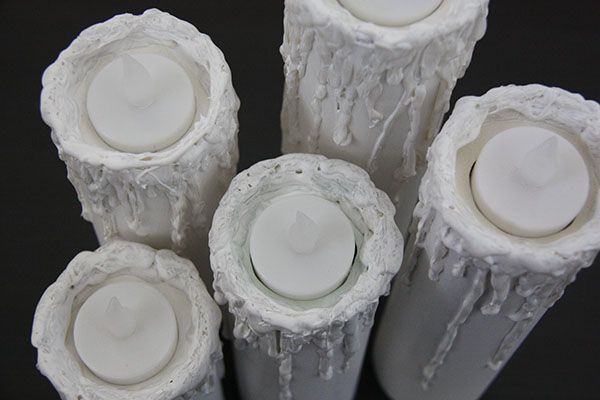 Because I used yellow craft foam and the pvc pipe has writing down one side I needed to undercoat mine before painting. I then painted them with an antique white paint with a little ochre to bring out an aged look. I also dry brushed a little black around the top of them. The photos above are the undercoated version and ones below are the antiqued ones. The photo doesn't show the colours of these too well they look a little more aged than this.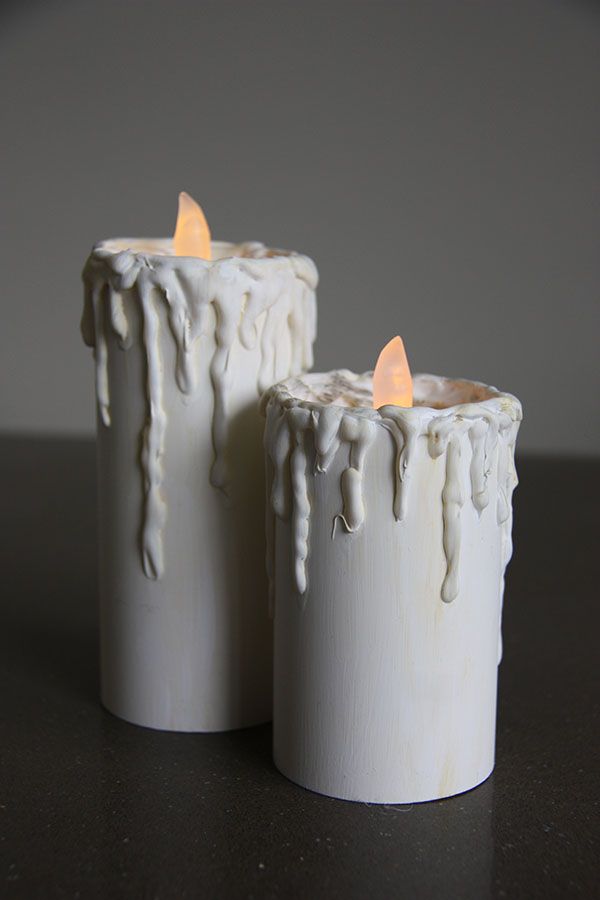 So once all the messy stuff is done, I put them around the house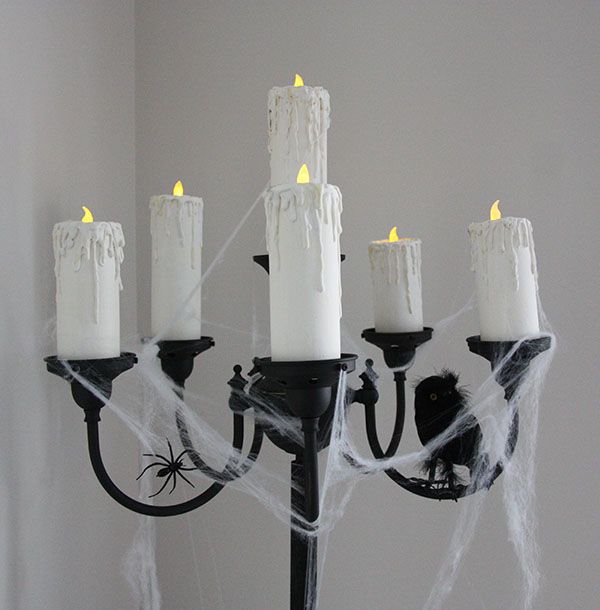 They don't have to just be for halloween either, you could easily use them for Christmas too. Place them amongst some garland or tinsel and they will take on a whole new look.